With a 4-day long weekend approaching we wanted to find somewhere to go and do something a little different.  So what better could we find than riding bicycles across an entire country in a few short days.  We shortlisted a few candidates and analysed the pros & cons of each.  Luxembourg – nearest airports too far away and expensive.  Monaco – already been there and the hills would be a killer.  Andorra – poor airport access again.  Vatican – are you even allowed to ride bicycles across the square?  Liechtenstein – why not!
So we did a quick google map plan and figured we could ride the 30-ish km in about 4 hours with lunch stops included.  Not quite worthy of an entire long weekend but we could include Zurich and Lake Constance to pad out the itinerary and keep ourselves busy for the 4 days.
Despite the persistent and cold rain in Zurich we hired our cycles and after a deliciously expensive breakfast at the Sprüngli cafe we boarded the train to Sargans.  A typically Swizz comfortable, efficient but uneventful two hours later we rode across the Rhein and were officially in Liechtenstein.  Aside from the small plaque on the bridge there wasn't much else to distinguish this tiny country from neighbouring Switzerland.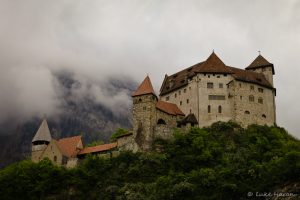 We waited out the rain in a bus shelter and had ourselves a quick lunch of ham and cheese baguettes before setting off in the afternoon sun across the the valley.  A pleasant place that's easy on the eye but like it's cousin next door it seems to be lacking any excitement.  But the people don't seem to be bothered and appear quite happy with themselves.. something to do with having the highest GDP in the world.  Anyhow, a few hours later we rode out across the border (is there one?) to Feldkirch and found us some good hearty Austrian food to celebrate our amazing feat!